May Open House 2022
Masterwood GB will be hosting their first 'Open House' at their Gatwick showroom, from 18th to 21st May 2022.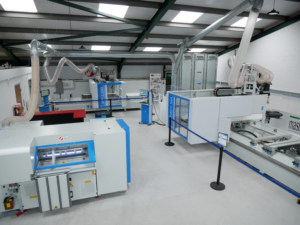 There will be demonstrations on:
• Solid Core & Timber Frame doorsets • Windows/Traditional Box Windows • Cabinets & Face Framing • Stairs •  Nesting Panels & Shapes • Full 5-Axis / 3D
These machines will be on show:
• Project 385L – 5 Axis pod & rail • MW 15.38 – Nesting Flatbed • Speedy II – Drilling + Routering • MW320s – Beam Saw • TF600s – High-Speed Drilling + Routering
TF600S – In addition to the original Project TF100/Speedy, Masterwood now offers a wider range of drilling machines for the panel market. The Master Drill series, which is available in three versions, has the advantage of working above and below simultaneously, thanks to the Smart table, for continuous workpiece support and patented air bed tables.The machines can have vertical & horizontal drilling heads above and below the bed, plus the option for vertical routers; these combinations and the twin gripper feed system ensure fast and accurate machining.Programmes are easy to generate in the Masterwood CAD/CAM software, and can be used with bar codes and scanners for fast automated production.Options of infeed and outfeed tables, to help speed up production time, are available amongst the three models.
Beam Saw – Having already been sold around Europe since its release, the first Beam Saw by Masterwood will be arriving in the UK in 2022.The machines are available in three levels to suit all requirements of production and workshop; these are heavy-build machines, using leading manufacturer's parts, to ensure high and long-lasting accuracy.