Open House Review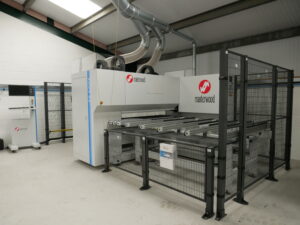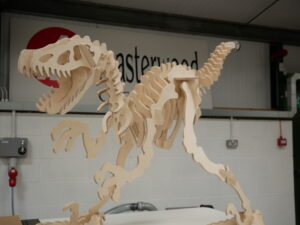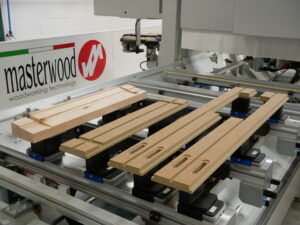 Masterwood GB celebrated their first Open House dates since moving to their new showroom with a great turnout of new and existing customers across the 4-day event. Customers had the chance to view a full range of Masterwood machines including the new high-speed drilling FT600s and MS320 Beam saw which are manufactured by parent company, KDT Machinery.
Through-out the 4 days, various demonstrations were run on the showroom machines to show off each machine's capabilities.
On the Pod and rail 5-axis CNC, one that grabbed a lot of attention was a full window frame and sash using Whitehill profile blocks. Masterwood GB sales director, Dave Kennard, said "Although 5-axis isn't required for window production, we were able to show customers a speed and efficiency that can be achieved with a CNC machine to produce a complete window". A traditional box window, designed using the MasterWindow and MasterWorks software packages, was also run on the pod and rail CNC, fully machining a sill, head, and a pair of pulley jams in approximately 15 minutes, a fraction of the time that a skilled woodworker would require to do the same work.
The new TF-600S drilling machine did not disappoint. Customers were impressed with its high-speed work rate and ability to work on all 6 faces of a panel, producing a cabinet panel containing 30 holes, in just 10 seconds. The machine uses twin grippers to securely clamp the panel, and an air blower table to allow quick and smooth movement in and out of the working area. These machines are standard with drill heads and routers above and below and higher levels can have the option of tool changing.
MS-320 Beam Saw – The long-awaited beam saw from Masterwood, in partnership with KDT, generated a lot of interest with the speed that panels could be cut from full size sheets and the quality of cut. The basic software allows panels sizes to be set and then to be optimized into sheet sizes to get the most efficient layouts with minimum waste.
On the flat bed MW1225KS, a popular demo from the W18 exhibition, a dinosaur 3D jigsaw. The programs are created using Master3D software, and the design is nested together to get the maximum number of components out of sheet material. The current showroom model is a 4-axis version and allows the aggregate heads required for Lamello P-System joints to be used.
Speedy II – The compact drilling machine demonstrated a simple cabinet being fully machined and using the Lamello jointing system. The machine is currently available as an ex-demo model. Contact MWGB office for more information. The Speedy is proving to be a very popular model with its main drilling facilities plus the added six position tool changer, it makes the machine very versatile for "One Offs" or for use with larger quantities of panels where in and out feed tables help.
Our staff at Masterwood GB would like to thank all companies and customers who attended the open house to see the machinery and software packages we have to offer, as well as Whitehill and Lamello for their presence at the open house.
The Masterwood GB showroom is available for machine and software demos on a full range of products, at your convenience. To book a visit and see how Masterwood can change your business, email – office@masterwoodgb.co.uk or call 01293 402700